Self-Assessing Your Quality Assurance Program
Course Details
Self-Assessing Your Quality Assurance Program is unique because it not only provides training on the techniques and requirements for completing the Department-mandated annual self-assessments, but also includes chapter activities that culminate in the conduct of a self-assessment and preparation of a report. You receive pertinent training, Continuing Education Credits, and also fulfill your self-assessment requirements.
Course Outline
- General Information
- Introduction
- Chapter 1 Program Self-Assessment Requirements
- Chapter 2 Objective Evidence
- Chapter 3 What Do Commitments Look Like?
- Chapter 4 General Guidance for the Self-Assessment
- Chapter 5 Evaluating Your Quality Assurance Plan for Functionality
- Chapter 6 Creating Self-Assessment Checklists
- Chapter 7 Sample Selection
- Chapter 8 Quality Assurance Program Requirement
- Chapter 9 Standard Operating Procedures (SOPs)
- Chapter 10 Drawings/Diagrams
- Chapter 11 Worker Protection Program
- Chapter 12 Self Assessment Report
- Summary
- Course Evaluation
Fee-$289 Includes all materials, certificate of completion, and notification to the Illinois Radon Program for Continuing Education Credits.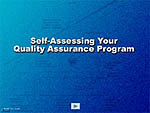 Click for course preview in PDF format (160K).
All of the training materials and related documentation for this course are contained on the CD-ROM.

The minimum system requirements are:
Pentium II processor,
CD-ROM reader (4X or higher),
Internet Explorer 5.5 or PowerPoint 2000
Adobe Acrobat Reader, (4.0 or higher-included on CD, or free download from adobe.com),
and a Printer.
The course may be run using:
Microsoft® PowerPoint® 2000 or higher
PowerPoint Viewer
Internet Explorer® 5.5 or higher